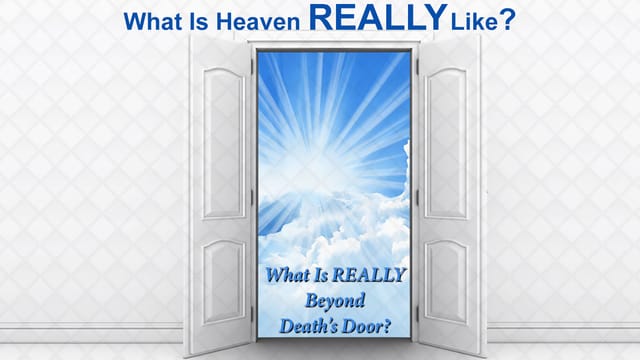 Beyond Death's Door – Part 3
What is Heaven REALLY Like?
"Its brilliance was like that of a very precious jewel like jasper, clear as crystal. … The great street of the city was of pure gold, like transparent glass." Revelation 21:11, 21
1. Heaven is a __________, _______________ Place
"I am going away to prepare a place for you. If I go away and prepare a place for you, I will come back and receive you to Myself, so that where I am you may be also." John 14:2b-3 (HCSB)
2. It Is a ___________.
"There is more than enough room in My Father's home." John 14:2a (NLT)
3. It Is a New ______________ and a New ___________.
"In the beginning God created the heavens and the earth." Genesis 1:1 (NIV)
"Then God said, 'Let the earth produce every sort of animal, each producing offspring of the same kind – livestock, small animals that scurry along the ground and wild animals.' And that is what happened. …And God saw that it was good." Genesis 1:24-25 (NLT)
"Then the Lord God planted a garden in Eden in the east, and there He placed the man He had made. The Lord God made all sorts of trees grow up from the ground – trees that were beautiful and that produced delicious fruit. In the middle of the garden He placed the tree of life and the tree of the knowledge of good and evil. A river flowed from the land of Eden, watering the garden …The gold of that land is exceptionally pure; aromatic resin and onyx stone are also found there. … The Lord God placed the man in the Garden of Eden to tend and watch over it." Genesis 2: 8-10, 12, 15 (NLT)
"Look! I am creating new heavens and a new earth, and no one will even think about the old ones anymore." Isaiah 65:17 (NLT)
"As surely as My new heavens and earth will remain, so will you always be My people, with a name that will never disappear." Isaiah 66:22 (NLT)
"But we are looking forward to the new heavens and new earth He has promised, a world filled with God's righteousness." 2 Peter 3:13 (NLT)
"Anyone who belongs to Christ has become a new person." 2 Corinthians 5:17 (NLT)
"I myself will see Him with my own eyes – I, and not another." Job 19:27 (NIV)
"Then I saw a new heaven and a new earth, for the old heaven and the old earth had disappeared. And the se was also gone." Revelation 21:1 (NLT)
"No longer will there be a curse upon anything. For the throne of God and of the Lamb will be there, and His servants will worship Him. And they will see His face, and His name will be written on their foreheads. And there will be no night there – no need for lamps or sun – for the Lord God will shine on them. And they will reign forever and ever." Revelation 21:1-4 (NLT)
"So, he took me in the Spirit to a great, high mountain, and he showed me the holy city, Jerusalem, descending out of heaven from God. It shone with the glory of God and sparkled like a precious stone – like jasper as clear as crystal. The city wall was broad and high, with twelve gates guarded by twelve angels. And the names of the twelve tribes of Israel were written on the gates. There were three gates on each side – east, north, south, and west. The wall of the city had twelve foundation stones, and on them were written the names of the twelve apostles of the Lamb. The angel who talked to me held in his hand a gold measuring stick to measure the city, its gates, and its wall. When he measured it, he found it was a square, as wide as it was long. In fact, its length and width and height were each 1,400 miles. Then he measured the walls and found them to be 216 feet thick (according to the human standard used by the angel). The wall was made of jasper, and the city was pure gold, as clear as glass. The wall of the city was built on foundation stones inlaid with twelve precious stones: … The twelve gates were made of pearls – each gate from a single pearl! And the main street was pure gold, as clear as glass. I saw no temple in the city, for the Lord God Almighty and the Lamb are its temple. And the city has no need of sun or moon, for the glory of God illuminates the city, and the Lamb is its light." Revelation 21:10-23 (NLT)
4. There will be ___________ in the new heaven and earth.
"Then wolves will live in peace with lambs. And leopards will lie down to rest with goats. Calves, lions and young bulls will eat together, and a child will lead them." Isaiah 11:6 (ICB)
"Blessed are the meek, for they shall inherit the earth." Matthew 5:5 (NIV)
"For all creation is waiting eagerly for that future day when God will reveal who His children really are. Against its will, all creation was subjected to God's curse. But with eager hope, the creation looks forward to the day when it will join God's children in glorious freedom from death and decay. For we know that all creation has been groaning as in the pains of childbirth right up to the present time." Romans 8:19-22 (NLT)
5. There will be people in Heaven ______ _______ _________.
"And they sang a new song, saying: 'You are worthy to take the scroll and to open its seals, because you were slain, and with your blood you purchased for God persons from every tribe and language and people and nation. You have made them to be a kingdom and priests to serve our God, and they will reign on the earth." Revelation 5:9-10 (NLT)
"The NATIONS will walk by [the Lamb's] light, and the KINGS OF THE EARTH will bring their splendor into [the city]. On no day will its gates ever be shut…The glory and honor of the NATIONS will be brought into it." Revelation 21:24
"The wages of sin is death.' Romans 6:23 (NIV)